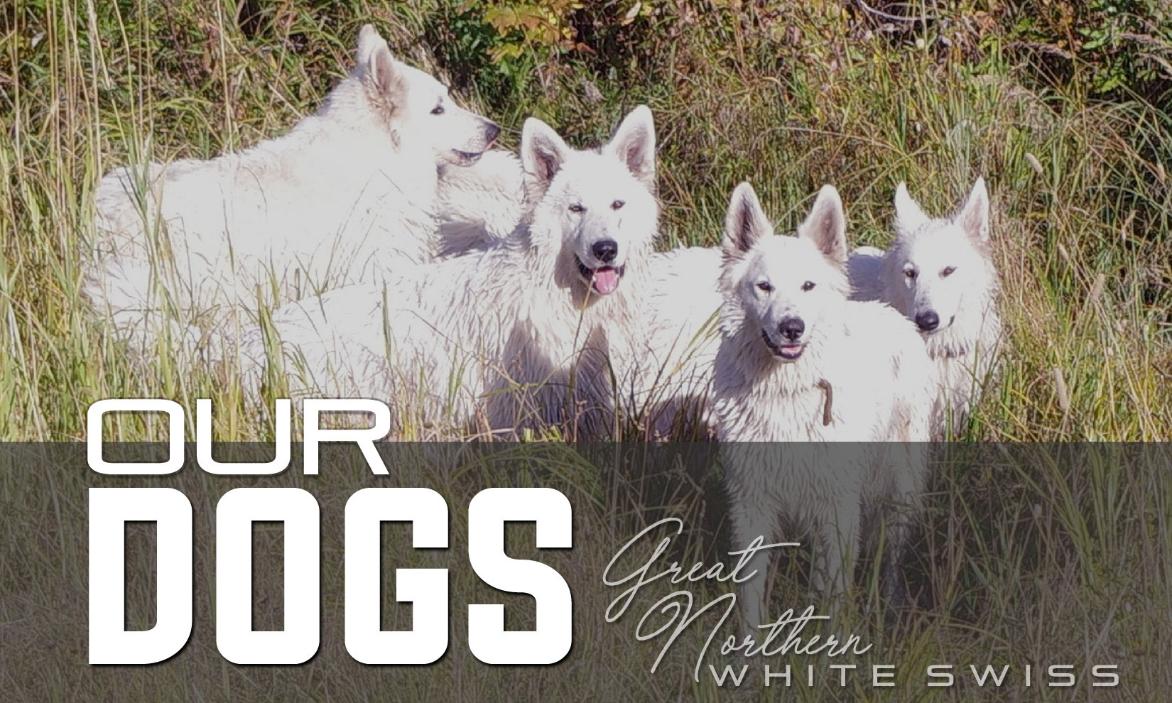 Our dogs, the Berger Blanc Suisse, here at Great Northern White Swiss are part of our family! Where we are, they are! They live here a fabulous life quading with us, canoeing with us, hiking with us, horseback riding with us! They take great delight in just being with us! And we with them! They are the perfect active family pack!!! And how we love them!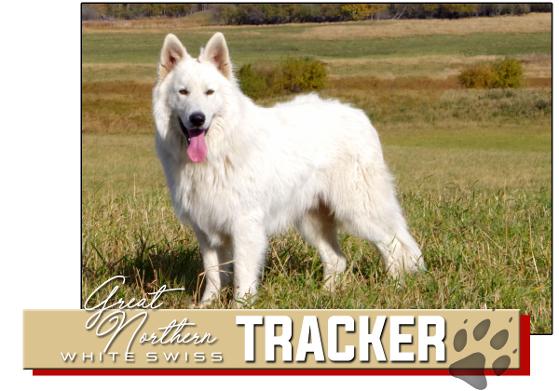 Tracker of Linde's White Wolves
Tracker (65 cm and approx. 100lb) is our youngest stud and has been imported from Belgium! He is the result of careful breeding by Linde Timmermans and the result is self evident! We call him our bear dog and one glance will confirm this nickname. Well built and athletic, his strength lies not in his agility but certainly in his power. His appearance belies his nature however, Tracker has the softest nature of them all… gentle and meek, he strongly desires approval and glories in affection. Tracker has just fathered his first litter and we look forward to watching them grow and hopefully mirror his traits.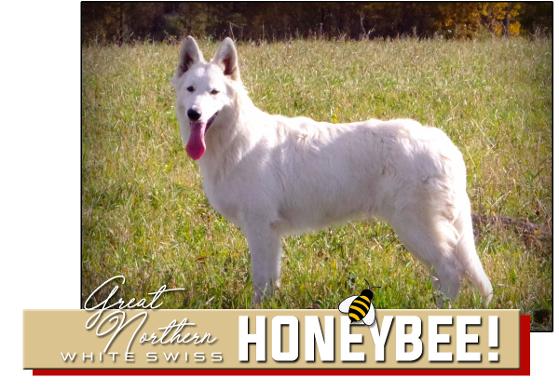 Honeybee is an up and coming breeding female! We retained Honeybee from Patriot and Promise's last litter together and she is everything we hoped she would be. White Swiss Shepherd perfection. Athletic, intelligent, friendly, playful and engaging we can only look forward to her as a future mother in our program!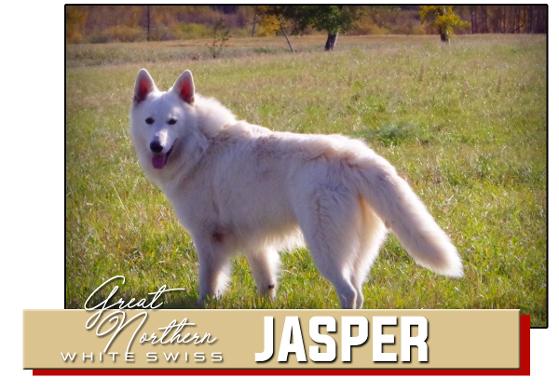 Jasper (66cm and approx. 100lb)is the result of our own breeding and our senior stud dog. He returned to us as a two year old when his family moved and were unable to take him with them. What a gift he has been! Jasper, like Tracker is powerfully built and very athletic, he lives to chase sticks and tug of war is his very favorite. Jasper has sired many pups already and always passes on his friendly, outgoing nature.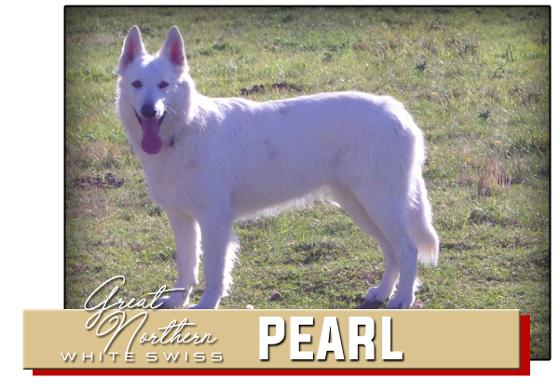 Pearl (60cm and 65lb) is the offspring of Jasper and Star and is as precious as her namesake. Highly loyal, athletic and intelligent, Pearl has been nothing but a pleasure! She has accompanied us on many a mountain hike and river swim and loves nothing more than to be with her people. Her strengths are just what we want to see in our program and if her offspring are like her, they will be amazing!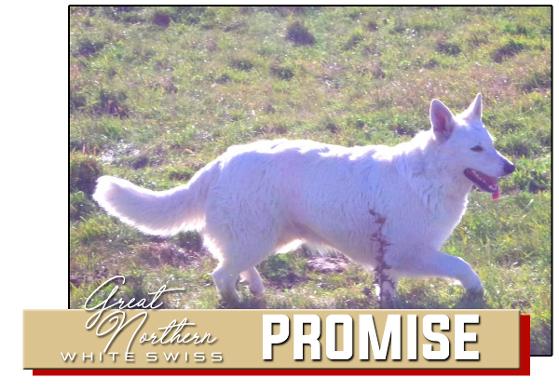 PROMISE OF THE WHITE WOLVES
Promise is our pack matriarch! After the passing of Kea, Promise became the alpha female. We couldn't ask for a better leader. Open and friendly with strangers, she is an excellent example to the younger girls. Promise is devoted to the kids and follows them everywhere. A large female, with a distinct wolf like look about her, Promise has only produced incredible WSS specimens both in mind and body! She is due to have one last litter for us before we retire her but her bloodlines continue through every single female we have retained! Promise has been an incredible girl and we are grateful for her influence in our breeding program!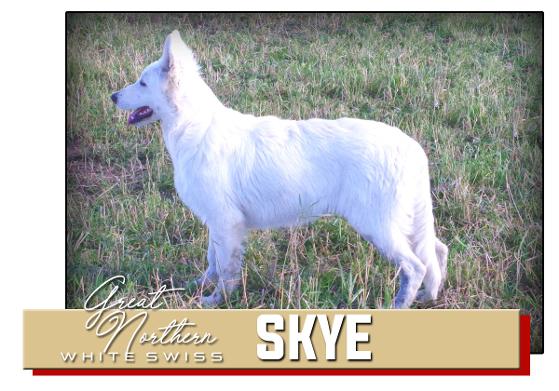 We also retained Skye as an up and coming breeding female. Skye was a special pup! She had a close shave with death as a newborn and survived on round the clock bottle feedings. Due to her pigment and overall character, we decided to just check into her DNA and when she came up perfect, she too was added to the future of our program! She is a gift and, like Honeybee, her friendly nature and wolflike looks are just what we are hoping to breed further!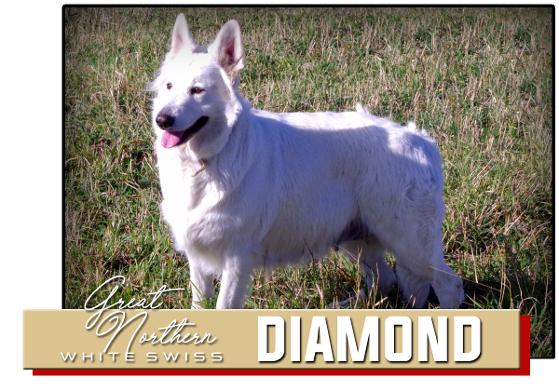 Diamond – Daenarys Zeichen Von Wolf
With love and pride; I would like to introduce two sweet darlings, all the way from Argentina…. Dracarys and Daenarys Zeichen Von Wolf! These are two sisters who couldn't be more different as day and night! Star's sister Daenarys whom we called Diamond! This gentle girl is slow and shy. She only wants one thing and that is to be with me. As close as possible:) All the time:)) When Star is dashing through the forest, Diamond is almost permanently behind or beside me. She is the chubby one ha… but I love her to pieces and how happy I am to have this loyal devoted girl as a part of our pack. She's bred by Evelyn Buffa of Zeichen Von Wolf who breeds top notch White Swiss Shepherds. Diamond's sweet and kind and gentle and perfect. We expect great litters from her.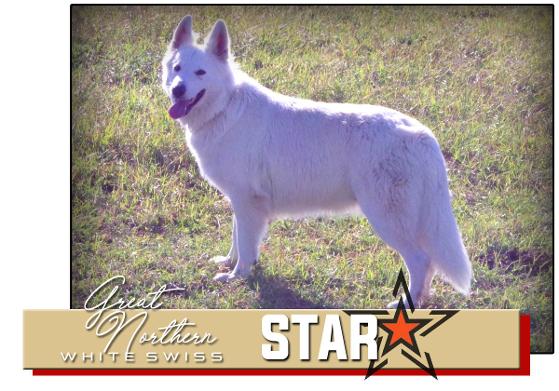 Star – Dracarys Zeichen Von Wolf
Dracarys is the hyper athletic one. We affectionately refer to her as 'Star':) Always looking for an adventure, or trouble which ever comes first. Definitely hard to keep weight on this one as her favorite gait is a dead run:) Star is smart as a whip, fast as lightning, always eager and full of joy, she is a pleasure to have in our pack.
She's bred by Evelyn Buffa of Zeichen Von Wolf who breeds top notch White Swiss Shepherds. Star is sweet and kind and gentle and perfect. We expect great litters from her.
© Copyright Great Northern White Swiss